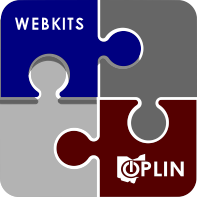 Are you ready to improve your library's website?
Read Website Kit testimonials here
Is your library ready to replace its outdated site with something that:
Looks more professional?
Is easier to manage and doesn't require a tech?
Meets current standards for handicapped accessibility?
Displays clearly across mobile devices?
Provides advanced features?
Presents your library to your community as a strong, credible institution?
OPLIN is pleased to offer Ohio's public libraries  Website Kits, a service that provides all of these features and more at a modest cost.  We understand that, in these budget-strapped times, it is more important than ever for public libraries to show their communities that they are vital and trustworthy institutions that can provide the same advanced features as other kinds of sites.  We also know that library staff have even less time to manage their websites.  OPLIN's  Website Kits offer a host of options for little investment of time and funds. 
Why would your library want an OPLIN Website Kit?
The kit includes a full content management system (CMS).  This means that library staff can control the entire content of the site without needing anyone to change back end code.  It's as simple as writing an email or filling out an online form!  Create new pages with a few clicks.  Post news stories to your front page with no technical knowledge required. The Website Kit makes managing your library's web site simple...finally!
Even the basic version has extra features. Want a WYSIWYG editor for your content?  Want to be able to attach PDF files? Color-coded events? A featured message for emergencies? All of these are featured in the basic, fixed-cost package and many add-ons are also available for a small cost.
More advanced features.  The kit also provides:

Built-in site search AND the ability to search your library's catalog AND the Ohio Web Library;
Ability to categorize your events easily by keywords (and filter your event calendar that way)
A Word-like WYSIWYG editor for entering your content, so you don't have to know any code to put your items online;
Function to upload and attach documents like PDFs to specific web pages;
Ability to easily post clearly visible emergency closing notices;
Custom database listings that make it easy for your patrons to see what research databases your library has and what they do;
Automatically generated printer-friendly pages;
Responsive web design, so your site renders cleanly across devices;
A calendar and event listing system;
Upcoming events block that auto-fills with your events;
Direct integration with Google Analytics, to help your library see how your site is being used by its visitors.
Access to the Website Kit Module Market, where you can order add-ins, both free and premium, to your site

We do the upgrades for you. Don't have a tech?  No worries!  OPLIN not only hosts your site, but we do all of the required upgrades as needed to the site's systems.
We do the graphics work for you.  Each basic kit includes: (Additional custom work can be arranged for an additional cost. Please contact OPLIN for details.)

Custom design of the header banner, including your logo if desired
Customizing of colors of text, footer, side blocks and calendar
Inclusion of a rotating database ad banner at footer of homepage
Custom favicon

Meets basic web accessibility standards. Website kits typically meet standards for Section 508 and WCAG AA-AAA.. (Some third-party widgets and/or custom scripting requests may not be able to meet these standards.)
Free training.  We provide up to 3 hours of free, hands-on training for at least one staff person at the OPLIN office.  We also provide online documentation and additional phone support at no extra charge.  (Additional training for up to 20 people on-site at your library is also available; please inquire for pricing.)
Free guidance during the design process.  Our professionally-certified web designer staff will help you with incorporating basic usability and good design principles.
No tech required.  OPLIN does the installation, the design, the configuration and the hosting.  All your library has to do is plug in its content.
Lots of options.  For a small fee, many useful add-ons are available for your Kit. Ask us if you need special functionality--we're able to accommodate many common requests!
OPLIN's pricing is modest.  Our goal is to provide Ohio's public libraries with websites that can better meet the needs of both patrons and staff and be competitive in the rapidly-evolving environment of the World Wide Web.  The cost of your Website Kit will be $1000 for initial setup (original design and up to two revisions). Annual maintenance and upgrades cost $432 per year. (Please note:  As of January 1, 2022, OPLIN will not support any versions of Internet Explorer.) Please see the list, above, for a description of all the features included in a standard Website Kit. Limited customization and graphic design service is also available; please call toll-free 1-888-96-OPLIN (1-888-966-7546) for pricing. For information about more extensive customization, including using designs not created by OPLIN, see Custom Websites for Libraries.
Note: Website Kits are intended to use limited server space, storing only the files needed to provide the public with information about the library and its services. To keep prices low and prevent website kit servers from reaching capacity, each website kit is allocated no more than 1 GB of file space, which is sufficient for even very large library websites. Images of library events, etc, should be optimized to stay within this limit or should be stored on another server provided by the library.
TIMELINE
As you might suspect, completion time varies depending on the specifications laid out during the planning stage. Don't hesitate to call us for further discussion of what a timeline for your library's site might be. But we're ready to get rolling with your library's site!
Incident Response: OPLIN staff will respond within one hour to malfunctions of Website Kits during regular business hours Monday through Friday from 8:00 a.m. to 5:00 p.m., excluding State of Ohio holidays. Contact us through the OPLIN Support site.
Incident Resolution: OPLIN staff will attempt to resolve every Website Kits malfunction within 4 business hours of Incident Response.
Who hosts the website?

We host your website on the OPLIN web servers. That allows us to keep all the software that runs the site up-to-date and secure. Our hosting service includes:

Firewall to protect the site against intrusion
Regular upgrades to software used to maintain and publish the site
Upgrades to server hardware when advantageous
Retaining current web site domain name
Pro-active fixes for network, system and software vulnerabilities
Mirroring of server hard drives to allow quick recovery from hardware failures
Problem resolution through the OPLIN Support Center

Will the web address of my website change?

No. When your site is ready, we will replace your current site at the same address. So if your current site address is mylibrary.org, your new site address will also be mylibrary.org.

How will I know how to use the website?

We ask each library that uses one of our websites to send some selected staff to our office in Columbus for two or three hours of training. The next step is for you to begin adding content to your site before it goes "live" on the Internet. Throughout this process we are available to assist you. Finally, when you are confident that your site is ready and you know how to keep it current, we launch it.

What if I have problems later?

Contact us (http://support.oplin.org) and we will work with you to resolve the problem.

What is usability and why does it matter?

The most basic definition of web site usability is whether or not users can quickly accomplish a given task on a website without obstacles.  Obstacles can be long download times, scattered navigation, poor design, dated styles and many more issues, all of which can affect how users access your site and/or perceive your library.

Many of the web sites developed by public libraries do not adhere to web design standards or best practices. OPLIN can help by fulfilling an original purpose – enabling libraries to compete with other Internet information providers – in a new way, focusing on building good library web sites as well as building good library Internet connections.