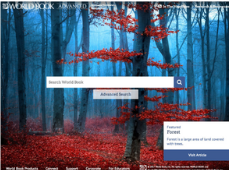 World Book Advanced, one of the resources available through World Book, is great for ages 14 and up. World Book Advanced offers a wealth of vetted articles supplemented by thousands of original source documents, fosters advanced research and critical thinking skills, and prepares students for continued growth.
World Book offers a number of accommodation tools in World Book Advanced, including
a built-in Double-click Dictionary for in-article definitions
Read-aloud with options for faster or slower, as well as a variety of narrators
a Translation Tool option to translate any article into one of over 100 languages
Go there now: http://ohioweblibrary.org/db/worldbook-advanced
Helpful Links
Online Help. A website from World Book designed to help and train libraries and educators on World Book Advanced.
Social Media Posts from World Book. Features a variety of timely topics, product specific, and feature specific images for posting.