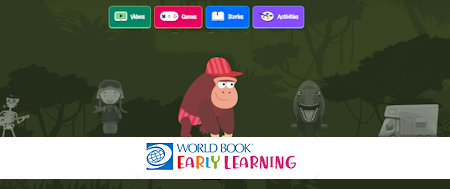 World Book Early World of Learning, part of the resources available through World Book, is an online resource for preschoolers and early elementary grade students.
 
World Book Early World of Learning includes three interactive learning environments:
Trek's Travels – narrated stories, interactive games, and original videos that teach critical early childhood themes, including numbers, shapes, colors, opposites, and more.
Welcome to Reading –  practice to develop and strengthen phonics, vocabulary, phonemic awareness, and comprehension skills.
Know It – a visual interactive encyclopedia that will captivate early learners with non-fiction topics of interest and importance to them
Go there now: http://ohioweblibrary.org/db/worldbook-early
Quick Start Guides & Tip Sheets
Helpful Links
Online Help. A website from World Book designed to help and train libraries and educators on World Book Early World of Learning.